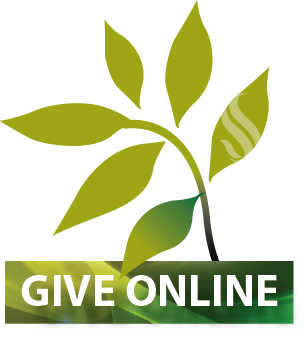 Interested in giving online to ROC/Oasis? Jesus told us it is more blessed to give than to receive. He should know firsthand because He gave His all for us. In return, as Christ Followers, we believe that we are stewards of God's resources because He is the owner of all that we have. At ROC/Oasis we faithfully use God's money to take the good news about Jesus to the people in creative ways: Like taking Jesus and His love to  Rutgers University  by starting ROC, our new church  in New Brunswick.
Throughout scripture, we are reminded of the importance of giving back a portion of what God has so generously provided. His Word tells us that giving is an act of worship that should be done with a spirit of thanksgiving.
We give faithfully so that we continue to be a new family that shows God's love & generosity to everyone we meet: from this community to the far reaches of the world.
It's quick, simple and secure to:
• Give a single gift
• Schedule recurring donations
• View your recent giving history
Which Cards do you Accept?
You can use any card with a Visa, MasterCard or a Debit Card.
GIVE THRU TEXTING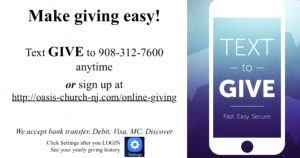 Are Donations Tax Deductible?
Absolutely! Contributions are tax deductible, and giving statements are mailed to your home quarterly. Pursuant to Internal Revenue Code requirements for substantiation of charitable contributions, no goods or services were provided in return for the Tax Deductible contributions. If you have any questions concerning setting up online giving, please contact Jane Mastrolia at 732-406-1450.